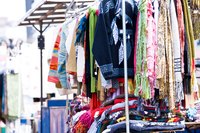 Garage sales can be a great way to find inexpensive items you can sell for a profit on eBay. In fact, the online marketplace founded in 1995, can even be thought of as a virtual garage sale bringing individual sellers and buyers together. There is a strategy to follow for getting the most out of your garage sale shopping for eBay efforts.
Things You'll Need
Plan ahead. Read local print newspapers and online editions, and Craig's List for garage sale announcements. Start your search early in the week because garage sales usually begin on Fridays and last through the weekend. You can find a lot of items quickly if you go to specific neighborhood sales instead of going to sales all across town.
Go to sales in the affluent parts of town to maximize your chances of finding items that may be worth money.
Go early. Most garage sales start in the morning, sometimes as early as 8 a.m. Arriving early ensures that you have first dibs on the best items.
Bring plenty of cash. You don't want to take valuable time convincing the seller to take a personal check. Most garage sale sellers only accept cash.
Bring your cell phone to call a friend or family member for a second opinion on an item. You may also get an eBay application for your smartphone, allowing you to check on prices and research specific sales trends. Use your phone to search for specific items on the Web to determine how much other sellers are asking for items.
Don't be afraid to bargain or make offers. People have garage sales to get rid of their stuff. Make reasonable offers and be fair.
Use the "cash in hand" technique. If you find something for $20, and think it is overpriced, you can approach the seller with $10 in your hand and say, "Hi, I am interested in that item over there. I only have $10 left, would you take that?" Seeing the cash, the seller usually takes it. The idea is to be reasonable. This technique usually works best later in the day when sellers are ready to close down their sales.
Conduct some research on the eBay site to determine which items or products are popular sellers. Certain items sell better than others and knowing what to look for can really help you maximize your profits.