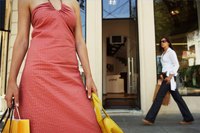 How to Choose a Sundress That Flatters Your Figure. The sundress is a fun and versatile summer piece. You can play it up with heels and accessories, or keep it simple with flat sandals. Choosing a silhouette that flatters your figure will let you step out with confidence.
Things You'll Need
Sundresses
Women's Sandals
Show off well-toned legs with a side slit or two in a column tank dress. Conceal heavier legs under a long dress with a flowing skirt.
Hide heavier hips under an A-line dress, or opt for a knee-length number that has a little flare around the edges.
Create the illusion of a larger bust with an empire-waist dress. You can also downplay a small chest by wearing a ruffled or gathered bodice.
Play up your well-toned shoulders and upper back with a halter sundress. An open collar or V-neckline will help minimize a well-endowed chest.
Choose a slip dress with darts positioned near the waist to give the illusion of curves. This works well for those with a thicker waist or gals with a boyish, not-so-curvy figure.
Go strapless or choose delicate spaghetti straps to reveal a long neck and sexy décolletage. Camouflage heavy upper arms by draping them in a delicate chiffon scarf.
Consider a minidress if you're petite. The shorter skirt length will create the illusion of longer legs.