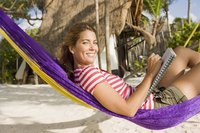 How to Choose Shorts That Flatter Your Figure. Shorts are the perfect summer staple, but not all styles flatter all figures. Selecting the perfect pair depends a lot on your height, your assets and any problem areas you wish to downplay.
Things You'll Need
Opt for a shorter inseam if you have short legs or are petite. A shorter silhouette will give the illusion of a longer leg, whereas a longer short will only enhance your compact frame.
Skip the pleats and any closure that gathers or bunches at the belly if you're wide through the middle. Opt instead for the slimming effects of a flat, clean front.
Balance broad hips with shorts that have a wider and longer cut. Downplay larger buttocks with shorts that flare or taper at the outside seam.
Cinch a drawstring short at your waist if you have a straight or boyish figure. Or select a zip or button-front style that sits low around your hips instead of your waist.
Head out in hot shorts if you're blessed with long, slender and well-toned legs. Just make sure you don't reveal too much.
Complement a very long leg or a tall frame with a board short or clam digger. Pair the board short with a cotton tank and sport slides, and dress the clam digger up with a peasant top and colorful leather thongs.