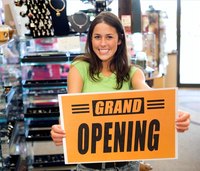 How to Attract Customers. The success of your business relies greatly on your ability to attract a steady stream of customers. So if you're not as busy as you'd like to be, try a few of these methods and watch your sales soar.
Things You'll Need
Business Announcements
Yellow Pages
Promotional Items
Business Cards
Personalized Stationery
Cameras
Launch a Web site. Web sites provide your company with worldwide exposure and give your customers convenient access to your services and products.
Host a grand opening or open house. Invite local business owners and residents from surrounding neighborhoods. Provide refreshments, drawings for door prizes, free merchandise samples, and have plenty of business cards and company brochures on hand.
Monitor the quality of your services and products constantly. Satisfied customers who spread the word about your business are the best source of new customers. Pay attention to pricing, customer service, product availability and prompt delivery.
Explore various types of traditional advertising methods such as classified ads, yellow page ads, television and radio spots, and display ads in magazines and on other Web sites. Go with what meets your budget and best reaches your target group.
Support a local charity by sponsoring a fundraising event such as a food drive, toy drive or walkathon. Arrange for a formal presentation of your donation with cameras at the ready and try to get a local newspaper to publish the photograph.
Distribute fliers and business cards door to door, place them under car windshield wipers and tack them to local apartment, college and community center bulletin boards.
Maintain a visible presence within your industry. Participate in trade shows, attend community events and offer to speak on your area of expertise at seminars.