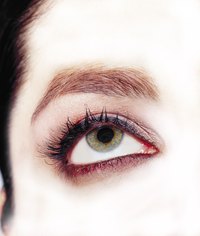 Shaping your eyebrows into a flattering style isn't hard, but it takes a little patience at first. After you find a shape you like, maintaining that shape is quick and easy. The eyebrows act as a frame for your face and accentuate your eyes, so take care to uncover the shape and thickness that works best with your features. Women with delicate features are overpowered with strong brows, but women with strong features need those same strong brows to balance their faces. The classic angled brow accentuates delicate and strong features alike.
Things You'll Need
Lighted makeup mirror
Plastic straw
Eyebrow pencil
Eyebrow powder
Tweezers
Brow gel
Brush your eyebrow hairs upward and outward with a brow brush. Hold a plastic straw vertically next to your nostril. Draw a 1/4-inch to 1/2-inch vertical line with a brow pencil on the brow side of the straw. Repeat on the other side.
Make sure that the lines are evenly spaced above the bridge of your nose. Tweeze any hair between the two lines and above the bridge of your nose.
Make two dots with a brow pencil at the brow arch -- that peaks above the outer edge of your iris and hits your brow bone -- one on the top and one on the bottom of the brow. Draw a light line from the top of the vertical line by your nose to the top dot. Repeat this for the bottom of the brow. Repeat for the other side. The horizontal portion of your eyebrow along the brow bone should be between 1/4 inch to 1/2 inch thick and can be straight, angled or arched depending on your preference.
Place a straw vertically next to the nostril then swivel it outward until it reaches the outer corner of your eye. Make a dot with a brow pencil where the straw crosses the end of your brow and connect the top and bottom arch points to the end brow point. Repeat for the other side.
Tweeze away any hair that lies beyond the outline. Use brow powder or a brow pencil to fill in any sparse areas inside the outline. If you use a brow pencil instead of powder, use light, individual strokes. Finish with brow gel to fix the eyebrow hair in place.