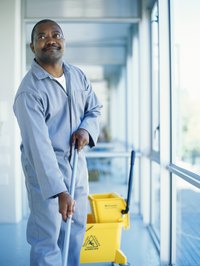 Facility maintenance is a service that many companies and government offices contract to third-party vendors. The facility manager typically negotiates contracts and oversees the work done by the vendors. Work may include everything from cleaning offices and maintaining the landscaping to inspecting elevators and making building repairs. Managing those contracts includes creating and following budgets, participating in strategic planning sessions and ensuring that maintenance vendors follow environmental compliance regulations.
Look for a facilities maintenance provider that offers a full range of services to reduce the amount of billing you have to do and the number of contracts you must oversee. Lines of communication with the vendor are simplified when you only have one point of contact for cleaning, landscaping, repair and professional services such as electrical and plumbing. Integrated facility maintenance companies are more cost-efficient as well.
Establish expectations and specific lists of duties expected of the workers doing the maintenance. Develop a contract that covers every objective the contractor is required to meet. Include times and dates when work must be completed. Schedule hours and days when work is to be performed and write down the process contractors must follow to change orders.
Clarify the roles of the contractor and yourself in writing. Blurring of managerial responsibilities can lead to conflicts that undermine the productivity of the maintenance teams. For example, if an executive complains about how his office looks in the morning, you as the facilities manager should call the vendor's contact person instead of speaking directly to the cleaning crew at night. Leave discipline and direction of workers to the vendor supervisor.
Make regular visits to the sites where maintenance crews are working to see firsthand the quality of work being performed and gauge the attitude and dress of the workers to make sure they comply with your contract agreements. While you should keep a running list of complaints from internal company representatives, you'll be more effective in meetings with vendors when you've witnessed problems yourself.