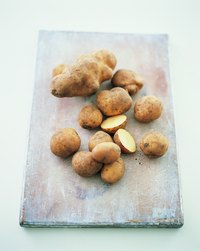 Babies may be on to something putting most of their food on their face rather than in their mouths. Food facials are nothing new and numerous studies show the usefulness of natural ingredients for promoting healthy skin, hair and bodies. One such vegetable is the humble potato, which contains catecholase, a natural skin lightener. Folk remedies call on potatoes to help lighten skin, reduce dark under-eye circles and lesson the appearance of freckles.
Things You'll Need
Raw potato
Knife
Potato peeler
Box grater or food processor
Cheesecloth
Hyperpigmentation Help
Peel and roughly dice a raw (preferably organic) potato and place it into a food processor. Pulse to shred, being careful not to turn the potato into a paste. Alternatively, if you don't have a food processor, you can grate the potato with a box grater.
Wash face as usual with a gentle facial cleanser and lightly pat the face dry.
Take the shredded potato and place it into the cheesecloth. Gather up the cheesecloth and lightly squeeze to release the potato juices. Carefully rub the potato-saturated cheesecloth all over the face, focusing on areas that need lightening.
Let the potato juices sit on the face, taking care to get none in your eyes, for 10 to 15 minutes before wiping off the starchy reside. Continue with your normal skincare routine.
To make a skin-lightening raw potato mask, mash or process raw potato into a paste. Apply potato paste to the face and neck. Leave mixture on the face for 25 minutes before washing off. Moisturize skin as normal.