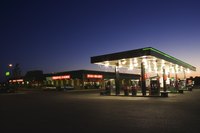 Convenience stores sell a range of consumer goods in local markets. Some operate fueling stations in addition to retail outlets. The convenience store market segment is highly competitive and proper planning is essential to building a profitable store and developing customer loyalty. Because of this, knowing how to write a business plan for a convenience store is a must for all aspiring store owners.
Things You'll Need
Word processing software
Market demographics information
Company financial records
First-year income estimates
First-year expense estimates
Step By Step
Start with the basics. Write up a company summary including its name, address, owners and form of organization. Briefly describe the company itself, clearly indicating that it will be operating a convenience store.
Describe the products and categories of goods you will sell in your store in the next section. Those may include food and drink, magazines, lottery tickets, automotive products and gasoline. Detail any early agreements you have entered into with suppliers and distributors, especially if they have expressed an interest in extending credit for your first order.
Detail your financial needs at start-up. List all expenses that must be paid before you can open your doors, including down payments on facilities and equipment, license fees, inventory costs, marketing expenses and insurance premiums. Add any outside investment you have already received, such as contributions from yourself or your business partners. If you have not yet raised enough capital to cover your needs, write a brief summary of how you plan to close the funding gap, including potential sources of debt financing and investor contributions.
Use income and expense estimates to draft your financial plan section. Keep in mind that estimating income for a business that's not operational as yet can be challenging. Compare your expected sales results for the first three months to one year against the average sale price of your products to arrive at a rough estimate of income for the period. Use your marketing plan for guidance when estimating first-year sales volume.
Develop your marketing section, beginning with a detailed market analysis. Include local population and demographic information in your market analysis, such as statistics for income levels, education, ethnicity, gender and age among the target market. List any non-local markets that you will target, as well, such as commuters from nearby cities or travelers on interstate highways. Detail the marketing strategies you will use during the first months of business, then estimate the percentage of your target market that will be exposed to your marketing messages.
Write your executive summary after all other sections are completed, then place it at the beginning of the plan. Use it to give readers a snapshot of the most compelling information in the plan, such as distinct competitive advantages, impressive income expectations and promising market statistics. Include information that clearly sets you apart from other convenience stores. Keep the summary to a single page, using short paragraphs and bullet points to draw attention to points that will make them want to continue reading.