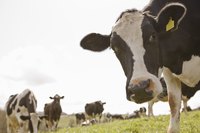 If you have a soft spot for cute animal nail designs, you'll find plenty of inspiration on the farm. Black-and-white cow spots make a bold, iconic pattern that's an adorable design for your nails. For an interesting accent, use flocking powder to give the cow spots the texture of real fur. Finish off the look by painting a pink-nosed cow face on your thumbnails.
Things You'll Need
Nail brush
White nail polish
Black nail polish
Black flocking powder (optional)
Pink nail polish
Dotting tool or bobby pin
Clear topcoat
Wash your hands and nails before painting. If your nails are dirty, clean them with a nail brush.
Paint each of your fingernails solid white. You may need to apply more than one coat if the first coat is too thin. Let the polish dry.
Paint small black dots in a random pattern on your nails, but leave the thumbnails blank. Make the dots different sizes and shapes, and curve the dots slightly in places so they look more like real cow spots.
Sprinkle black flocking powder over the dots to give them a soft, velvety texture that resembles animal fur. Let the polish dry so the flocking powder sticks. If you don't want fuzzy nails, skip this step.
Paint the tips of your thumbnails a pastel pink or light pink color. The pink tip will become a cow's nose. Allow the pink paint to dry.
Use a dotting tool or bobby pin to paint two small, evenly spaced black dots on each pink tip. These are the cow's nostrils.
Make the cow's eyes by painting two same-sized black dots in the center of each thumbnail. Alternatively, make one eye white and surround it with a black ring. Let the design dry.
Paint your nails with one layer of a clear topcoat to help your design last longer.