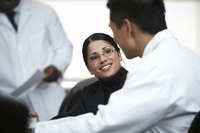 When you're part of an HR department, weekly meetings can help you to determine and reinforce company policies, communication practices, company culture and employee development tactics. When you plan your weekly HR meetings, be sure that you're addressing the needs of your staff and organization, not simply holding meetings for the sake of holding meetings.
Discuss communication practices. Communication is a vital role of your human resources department. Whether you're communicating company policies, benefits information or updates, employee events or company news, it's important to do so in a way that effectively reaches all employees. Dedicate a weekly HR meeting every so often to assess the communication practices within your business. Determine what is working and what isn't, and brainstorm tactics that help you communicate more effectively. Options might include forming an employee intranet, holding monthly companywide meetings or employing a variety of email tools.
Create and enforce company policies. Your weekly HR meetings are a great time to address how company policy is communicated and enforced throughout your organization. Brainstorm any problems that employees have in adhering to company policies and how you might better encourage compliance. For instance, if a big chunk of your employees are not up to date with their timekeeping records, think of an initiative to encourage them to do better, such as an employee party at the end of the month, scheduled when all employees log their time correctly.
Discuss ways to provide employee development. As the HR department, you'll want to make sure that you're recruiting and keeping great talent on staff by providing employee development programs and opportunities. Use your weekly meetings to determine how you can better groom employees for executive succession. For instance, you may want to initiate a "future leaders" program that gives regular training opportunities to employees who wish to grow with the company. You might also use your meetings to discuss possible employee development programs such as tuition reimbursement or mentor programs.
Keep your company culture alive. Your weekly HR meetings are a good time to discuss company culture and how to better support and develop that culture. This might be as simple as discussing and planning company holiday parties to creating a brand new employee dress-code policy. Your company culture starts with the HR department, so be sure to invite upper management to these meetings so you can align your initiatives with their vision for the company. Use this time to brainstorm new and creative ways to create and emphasize a positive company culture.