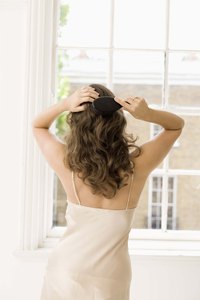 Although more common in women with naturally-curly hair, severe knots can occur after taking a stroll on a breezy day or suffering through a bad night of tossing and turning. Gritting your teeth and running a comb through the knots isn't always effective, and aside from the pain, over time the repeated use of this technique can cause unnecessary hair damage. Instead, remove the knots virtually painlessly by brushing your hair correctly and using the right hair care products, both in and out of the shower.
Things You'll Need
Leave-in conditioner
Wide-tooth comb
Plastic hair clips
Olive oil or conditioner
Medium-tooth comb
Shampoo
Apply a light coating of leave-in conditioner to your entire head of hair. Work through your hair with a wide-tooth comb. Once you hit the knots, section them off and secure each with a plastic clip. If necessary, apply another light layer of leave-in conditioner to any smaller knots and tangles. Continue until all that remains are the severe tangles.
Remove the clip from the severely knotted section and work through it with your fingers. This method is less painful than using a comb and helps begin separating the knot. Dampen and apply a thin coating of standard hair conditioner or olive oil to the knot.
Grasp the knotted section near the scalp with one hand, while you work through it with a wide-tooth comb. Work your way gently through the knot. If necessary, apply additional conditioner or olive oil. Holding the knotted section near the scalp helps relieve some of the pain, and the conditioner or oil provides lubrication.
Switch to a medium-tooth comb and continue to work through the tangle. Once the knot is eliminated, rinse out the olive oil or hair conditioner. If the olive oil won't thoroughly rinse out, shampoo your hair. Squeeze the water from the section and brush through your hair with the wide-tooth comb.