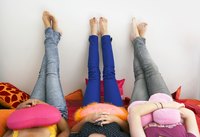 A snug pair of jeans that hug the form and show off those curves is sometimes an elusive commodity. Skinny jeans in particular should never hang loosely on the body, but you should also be able to move and maneuver in the denim without feeling constricted. Stretching out your new skinny jeans requires a bit of time and patience to get the ideal fit. Denim fibers need to be remolded and configured to new conditions before they turn into that perfect, soft pair of denim that you've been dreaming about.
Things You'll Need
Clothes hanger with clips
Spray bottle
Extra bed sheets or blankets
Steam and Stretch
Spritz water all over the jeans to get them evenly dampened. Concentrate the water on areas that might need a bit more stretch.
Bundle up a large bed sheet or blanket and shove the material into the leg of the skinny jean so that the fabric is forced to stretch out an inch or two. Repeat with the other leg of the jeans. Depending on the size of the jeans, you might have to push two pieces of fabric inside each leg to get them to stretch throughout the fabric. Be sure to fill each leg entirely so that the fabric stretches evenly.
Clip the skinny jeans to a hanger with clips. Be sure to space the clips far apart on the bar and clip the very edges of the waistband to encourage this area to stretch gently.
Hang up the jeans in the bathroom and allow the hanger and the filling to do the work for you. Run a couple of hot showers to steam and warm the denim fibers, which will further encourage stretching.
Wear and Tear
Wash the jeans in cold water with mild detergent every week. Cold water will not shrink cotton fibers like hot water often does and it will encourage the fibers to soften and mold more easily.
Wear the jeans for at least one hour every day to encourage the shape of the jeans to fit to your body. Sit at a desk or go for a walk -- you can even wear them to work on a casual Friday or while you do some stretching in the park.
Pull and stretch the fibers with your hands before and after wearing the jeans to help encourage the denim to further change shape. This process is particularly helpful in especially tight areas like the ankle and thigh.