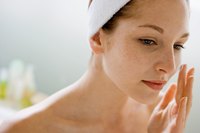 Karite cream, or "butter," comes from the African shea tree, which is why most people in the U.S. refer to the milky paste as shea butter. Although African healers use it in everything from food to sunscreen, shea butter usually shows up in hair, body and skin creams once it finds its home on the beauty aisle. In these creams, the high fatty acid content of karite serves to increase moisture and elasticity in the skin and hair. The process for using each cream varies, but they all feature quick and painless application.
Things You'll Need
Shampoo
Towel
Shea butter cream conditioner
Comb
Shea butter body cream
Shea butter face cream
Apply a shea butter cream conditioner to your hair if you find it dry or damaged. First, shampoo, rinse and towel-dry your hair. Squeeze a dab of shea butter cream conditioner into your hands and work it evenly into all of your hair section by section. Allow the conditioner to rest for about five to 10 minutes, comb through your hair and rinse the cream out thoroughly. If applying a leave-in conditioner, use a smaller amount and do not rinse -- go right from the application of the conditioner to styling your hair.
Use shea butter body cream regularly to soothe your skin, help it retain its elasticity and prevent dryness. After your morning or nighttime shower, take a few liberal dabs of the body cream on your fingers or in the palms of your hands and gently massage it all over your body. Massage until there is no visible residue from the cream. Make this a part of your daily skincare regimen, or apply shea butter body cream any time your skin feels dry or tight.
Apply shea butter face cream every morning and evening to protect the skin from dryness, moisturize your face and bolster your skin's natural defenses. Clean and dry your skin, using a mild face wash, and pat it dry. Take a small dab of face cream on your fingertip and gently rub it into your face and neck until there is no visible residue. Focus on trouble spots, such as the forehead and under-eye area.