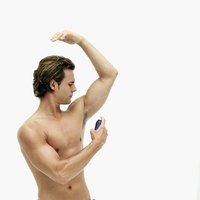 Generally, male teens first notice sweating in the armpits, around the groin and on the hands or feet. The humid environment that excessive sweating causes in these areas can also lead to jock itch, athlete's foot and skin irritation. To make the situation even worse, anxiety and embarrassment about the sweat can cause even more profuse perspiration. Excessive perspiration in teens is usually a primary issue that begins around the onset of puberty and doesn't signify any underlying health problems. On rare occasions, perspiration can be a secondary sign of a health problem that requires treatment.
Things You'll Need
Mild soap
Antiperspirant
White or black shirts
Absorbent powder
Aluminum chloride antiperspirant
Cotton sheets
Wash with gentle, mild soaps that have little or no fragrance. Heavily scented soaps can cause irritation and won't mask sweat or smell. Sweat itself does not stink, but bacteria that forms from dead skin cell accumulation and skin irritation can cause a foul odor.
Use an antiperspirant every day. Antiperspirants calm excessive sweating, while deodorants help with stinky armpits. Many companies produce a combination deodorant and antiperspirant.
Wear clean black or white shirts, which hide sweat stains better than colored or gray shirts. Wear your shirt only once before washing -- bacteria trapped on sweaty, dirty clothes creates a bad smell.
Apply an absorbent powder to sweaty feet daily. Drying moist feet with powder will help prevent athlete's foot. Wear breathable socks and shoes, which will help wick away moisture.
Use an antiperspirant with aluminum chloride if regular antiperspirants don't work. Aluminum chloride is a stronger form of antiperspirant that treats armpit sweat, although it can be used on the hands and feet. Apply it at night to clean, dry skin and wash off any lingering residue in the morning. The effects of aluminum chloride will last during the day. After a few weeks of use, many people only need to apply aluminum chloride antiperspirant once every one to three weeks.
Sleep in a cool room on breathable cotton sheets, especially if you wake up and begin perspiring immediately. A hot room and polyester sheets can make sweating worse, and sweaty sheets can be a breeding ground for bacteria.
Avoid spicy foods and hot weather, especially when you're exercising. Both can cause or exacerbate excessive sweating. Stick to mild foods and exercise in an air-conditioned gym or in the morning or evening.
Talk with your dermatologist about more intense treatments, such as botulinum toxin injections or even surgery, when all other products fail. Your doctor can inject a weak form of the toxin to paralyze sweat glands in the armpits and effectively control sweat. The treatment lasts four to six months. Surgery is permanent and involves removing sweat glands.