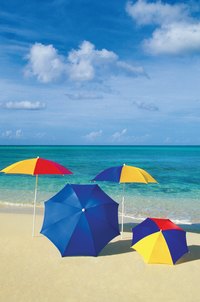 The pigment released when you tan can turn your skin blotchy as you age, leaving you with sun spots, commonly known as solar keratoses. Sun spots not only make you look older, but they can turn into melanoma, a deadly form of skin cancer. Although the chances of a sun spot becoming skin cancer are low, the more spots you have, the greater your risk. Sun protection is key in preventing these brown, freckle-like blotches from forming.
Apply sunscreen every day, even when the sky is overcast. Cardiothoracic surgeon Dr. Oz, often seen on the Oprah Winfrey show, recommends at least an SPF 45 version. Always apply sunscreen to your face. A high-SPF moisturizer works well for everyday wear, but if you're at the beach a zinc oxide cream is best. Reapply sunscreen every two hours if you've been in the water or sweating heavily in the sun.
Additionally, take a large beach umbrella when you go to the beach. Stay under its shade when you're not in the water.
Eat a diet rich in vitamins A, C and E, and apply creams containing these vitamins to your body. Take a niacin supplement to help reduce melanin production.
Wear sunscreen and protective clothing if you spend a lot of time sitting in front of a window or beneath fluorescent lights, as both the sun and fluorescent bulbs emit dangerous UVA rays.
Scrub your skin regularly with exfoliating body wash, a bath pouf or a loofah, especially if you already have sun spots. Sloughing off dead skin cells helps remove excessive discoloration over time.