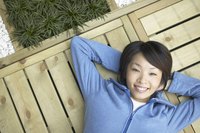 Most of the time, you try not to shrink your clothes during the laundering process, but if you have a fabric sweatshirt that's a size too big, shrinking it is possible. Fabric sweatshirts are typically made of cotton or some type of cotton blend, and while many are preshrunk, that doesn't mean it's impossible to shrink it further. Heat is the key when you're trying to shrink a fabric sweatshirt, but beware that you will have no control over exactly how much the shirt shrinks.
Place the sweatshirt in the washer. If it needs to be washed, add the recommended amount of laundry detergent, but if not, just use water. Set the washer to the hottest water temperature setting.
Run the sweatshirt through the wash cycle. Remove it from the washer and place it in the dryer.
Dry the sweatshirt on high heat until it's completely dry. Repeat this process, if necessary, to try to further shrink the sweatshirt.