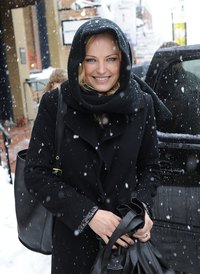 The scarf hood is a chic, modern winter accessory that goes by as many names as there are ways to tie one. The hooded scarf is simply that -- a scarf with a hood attached. The longer the scarf portion and the larger the hood, the more options you have for wearing it. The basic scarf hood is fashionably worn the classic way -- under a coat, wrapped around your neck and up, hoodie style.
Style Your Hood Scarf
Stretch the scarf out in front of you so that the hood falls flat. Flip the scarf over your head so that the hood lands around the back of your neck. Smooth out the ends of the scarf.
Pop the hood over your head like a hoodie. How you style the hood is largely based on personal preference. It's very fashionable to wear it pulled-out over your face like a visor or pushed back so that the hem of the hood rests on the top of your head. This way of wearing it is especially fashionable for women who have fringe bangs or long, face-framing hairstyles.
Twist the ends of the scarf a couple of times to add texture to the overall look. Wrap each scarf end around your neck once.
Knot, twist or tuck the ends of the scarf, depending on how much fabric you have left hanging down. Add an overcoat or jacket and then drop down and pop up the hood of the scarf as needed, but this fashionable accessory can stay on all day as a style statement.