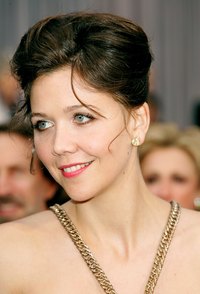 Ideal for special occasions and sizzling summer months, a gorgeous goddess hairdo is a wonderful options for a look that's ultra glam. Whether the occasion is a formal event, a costume party or just a relaxing day at the beach, an updo hairstyle adds an instant dose of pretty to absolutely any outfit. This elegant hair look can be taken to an entirely different level with the addition of glitz like a gold headband, embellished bobby pin or even a spritz of shimmer. Rock a goddess hairdo with a sweet maxi dress, an edgy T-shirt or a killer cocktail dress for a fresh look perfect for any day.
Things You'll Need
Elastic hair ties
Bobby pins
Hair spray
Gold headpiece (optional)
Gather two front sections of hair on each side, about 1 to 2 inches wide.
Tie hair into a ponytail, leaving the two front sections of hair to hang.
Fasten a clear, elastic band approximately two-thirds of the way down your ponytail to add volume and shape to your updo. For added glamour, incorporate a few small braids into this hairstyle on either side.
Scrunch the remaining hair and one section at a time, fasten to the top of your head to create a voluminous, messy updo. If your hair is extremely straight, use a curling iron to add waves to your strands.
Tease the front two sections of hair at the root and sweep back to create more volume up top.
Spritz a moderate amount of hairspray to hold. To add a lovely dose of glitz, use a hairspray that contains flecks of glitter.
Add a sparkly gold headband or other accessory like leaf-shaped bobby pins to put a unique goddess like twist on this incredibly chic hairstyle.