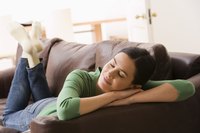 Many women get chemical peels to remove wrinkles, reduce age spots or improve the texture of their skin. The procedure works by removing a surface layer of skin so that new skin cells will grow. Depending on the depth of chemical peel you received, your skin may swell and turn red for weeks or months during the healing process. You can soothe redness by treating your skin right as you recover.
Things You'll Need
Petroleum jelly
Sunscreen
Antihistamine
Apply a thin coat of petroleum jelly to the treated area if you had a light or medium peel. This keeps the skin lubricated and soothes burning.
Avoid sun exposure as much as possible until your skin has stopped peeling. After that, apply sunscreen whenever you go outside to protect your new skin from sun damage.
Sleep in an elevated position to reduce swelling and redness. You may feel comfortable sleeping in a reclining chair or in bed with two or three pillows under your head. Laying flat makes swelling worse, so avoid it if you can.
Take an antihistamine medication to relieve severe itching and redness. If you're taking any other medications, ask your doctor if it's safe to take an antihistamine with them.
Soak sterile gauze in clean, icy water to create soothing wet packs. Drape the gauze over the peel site for 15 minutes, and then pat your skin dry. This is usually only necessary if you had a deep peel.
Use water-based cosmetics to hide the redness once your skin has healed completely. Avoid oil-based cosmetics that may clog pores.