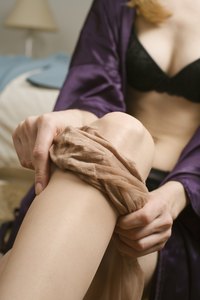 Tights accentuate your body's curves and add a touch of feminine charm to your look. If you're in the market for new tights, the array of options that most stores have might seem a bit overwhelming. One of the most important factors to consider when buying tights is choosing the correct size. Tights that are too big will bunch up and hang loosely on your legs, and a pair that's too small is prone to runs and tears. If you know your height and weight, you can use the information to find tights that fit you perfectly.
Things You'll Need
Remove your shoes and socks before measuring yourself to get the most accurate reading.
Stand on a level surface. Measure your height from your feet to the top of your head. You may want to ask someone to help you with this.
Measure the height from your hips to the floor. Some brands use your hip measurement to determine size.
Stand with both feet on a scale and check your weight.
Write these measurements down and take them with you when you're ready to buy tights.
Look at the tights packaging to find the best fit for your height and weight. Manufacturers usually print a sizing chart on the packaging. Compare your measurements with the chart to determine the correct size.