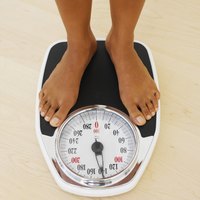 Years of poor eating habits and a lack of exercise can leave you with pounds of excess weight. Even worse, those habits and choices can block the way to healthy weight loss when you lack the willpower to make a change. In fact, 27 percent of Americans cite a lack of willpower as the greatest barrier to change, according to a 2011 study by the American Psychological Association. If you really want to lose weight, self-discipline will play a huge part in making good health a habit, rather than a fleeting interest.
Set both long- and short-term goals to help inspire your weight loss. While long-term goals -- like losing 20 pounds over three months -- are definitely admirable, they can sabotage weight loss by being too lofty. Short-term goals, like skipping fast food for an entire week or getting to the gym each morning, contribute to your long-term goal but are easier to accomplish and can help give you the motivation and willpower to stick to your routine.
Make yourself accountable to your weight loss goals. Regular weigh-ins are one of the secrets to weight loss success, as noted by Today's Dietitian. Whether you weigh in once a week to track your success, keep a weight loss journal or use a diet and exercise app on your smartphone, you're putting your goals -- and your results -- down on paper. Seeing progress can help give you the self-discipline you need to keep going.
Ask friends and family to support your weight loss. While the term "self-discipline" refers to your own willpower, friends and family members can help support you by making you more accountable to your goals, joining you for regular exercise and keeping temptations out of your way.
Change your environment to make it more conducive to weight loss. A change in environment is one behavior suggested by the APA that can help remove diet temptations and make exercise a regular habit. If you have a cupboard full of junk food, it might be hard for you to eat healthy. Make sure your home and your work environment are set up to help you eat healthier foods and get more exercise, like putting weights in your office and stocking your fridge full of produce.
Add a cheat day to your regimen. While applying self-discipline every day is admirable, you might find yourself breaking down when you're too restrictive with yourself. A cheat day gives you something to look forward to so you don't find yourself straying from your weight loss plan during the rest of the week. Choose one day and savor foods that you love without completely binging, suggests Dr. Mehmet Oz's website. That way, you can restore your self-discipline for the rest of the week.