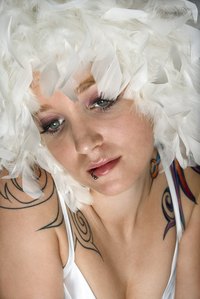 Wigs conceal loss of hair, augment existing styles or are simply worn for fun and fashion. Prior to fully securing the wig in place with tape or adhesive, you want to make sure it's perfectly straight. This makes the wig appear more natural, preventing potential embarrassment and keeping the look as stylish as possible.
Check the small tabs near your temple protruding from the wig. Ensure they're the same height above your ears.
Bend these tabs slightly inward toward your scalp if they are not already. This ensures the wig isn't pushing away from your scalp, hurting the illusion of real hair.
Visually check that the bangs or hairline of the wig also align with a horizontal reference, such as your eyebrows.