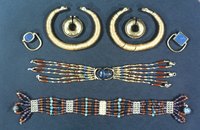 Even before the discovery of King Tut's tomb in 1922 -- prompting an obsession with all things Egyptian -- the exotic influence of Egypt was already present in art, architecture and design. Jewelry inspired by Egypt can be recognized by several common themes used in Egyptian-era art, as well as during later periods when Egyptian Revival was especially popular, and by designers who created prominent revival pieces.
Look for the major motifs of Egyptian art to recognize Egyptian Revival jewelry. Egyptian-style jewelry may feature carved hieroglyphics, palm leaves, palm trees, pyramids, obelisks, sphinxes and pharaoh's heads. Enamel inlays and gemstones in revival pieces may depict animals associated with Egypt. Cobras, falcons, jackals and scarab beetles often adorn revival necklaces, bracelets, long earrings and pins.
Look for symbols used in Egyptian amulets to identify revival jewelry. The Ankh, the eye of Horus, scarabs, and lotus flowers were all symbols worn for good luck or protection by the Egyptians and are commonly seen in brooches, pins, necklaces, earrings, rings and bracelets made in the Egyptian style.
Know that revival jewelry typically favors gold, and enameling and precious and semiprecious stones were often incorporated into the pieces. Pieces are bright and bold, using emeralds, jade, amethyst, and lapis lazuli. Egyptian Revival jewelry is typically large; think oversized collars, large pendants, bib necklaces, weighty chain bracelets and wide cuffs.
Find Egyptian-style designs produced during the revival periods of Art Nouveau and Art Deco. Popular in the late 19th and early 20th centuries, Art Nouveau fine jewelry pieces were made in gold and silver with enameling and precious stones like diamonds and emeralds. During the Art Deco period in the 1920s and 1930s, many jewelers created popular lines of fine and costume jewelry dedicated to the Egyptian style.
Identify the major fine jewelry designers who created revival jewelry during these periods. Louis Comfort Tiffany began creating Egyptian-inspired jewelry around 1900. After travelling to Egypt in 1908, he collaborated on a line of Egyptian revival jewelry for Tiffany & Co. Lesser-known American jewelry designer, Marie Zimmerman, combined semiprecious stones, intricate enameling and gold in inventive Egyptian revival style pieces. French jeweler Cartier created a popular line of Egyptian jewelry in 1920s Paris, fashioning rubies, emeralds and sapphires into his elaborate revival designs.
Know the names of fashion and costume jewelers such as the Napier Company, Lisner, Whiting & Davis and Monet, who created Egyptian jewelry in the 1920s using materials such as rhinestones and enameling. Elaborate pieces made by Joseff of Hollywood were featured in the 1963 film "Cleopatra," starring Elizabeth Taylor.