You already know exercise is good for you; every healthy organization under the sun says so. However, not every living situation is conducive to heart-thumping workouts. If you can't or won't join a gym and happen to live in an upstairs apartment, your choices may be particularly limited -- but they aren't nil. In fact, with a little bit of creativity and a helping of good manners, you can still get in a good workout without disturbing anyone else in the building.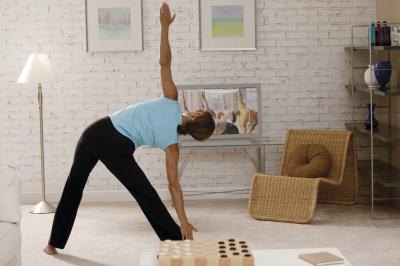 (Comstock/Comstock/Getty Images)
Things You'll Need
Exercise pad or thick yoga mat
Step 1
Scope out the floorboards in your apartment. Doing your workout on the least-creaky section of the floor can do a lot to minimize the amount of noise you generate.
Step 2
Put down an exercise pad -- a thick yoga mat is a good start -- to help absorb the sound of your footfall. This won't completely mute the noise, but it will help.
Step 3
Consider speaking to your downstairs neighbors; sometimes a cordial conversation goes a long way toward reducing ill feelings. If you discuss your plans with them beforehand, they're more likely to come to you with complaints than to go straight to the apartment management. You might even be able to plan your workouts for a time when they're not home, freeing you up to do more boisterous exercises.
Step 1
Eschew high-impact exercises like jumping rope -- or anything else that involves jumping around -- in favor of low-impact exercises that keep both feet on the floor. If you're doing calisthenics, this still leaves you a wide variety of options like burpees without a jump, mountain climbers and hand-to-foot kicks.
Step 2
Add arm movements to lower-body exercises and vice versa. For example, do lunges at the same time you do biceps curls, or combine squats with shoulder presses. Imitating these weight training exercises with no weights, using fast but controlled movements, creates a quiet yet challenging calisthenics workout.
Step 3
Add strength training to your workouts. The Centers for Disease Control and Prevention recommends strength training twice a week for your major muscle groups. Strength training also adds intensity to your workouts without creating any extra noise. Body-weight exercises like push ups, squats and lunges require no extra equipment at all. If you can afford a few dumbbells, you can add in basic exercises like chest presses, shoulder presses and biceps curls; use your bed or the floor as a makeshift weight bench if necessary.
Step 4
Consider purchasing a quiet, inexpensive piece of low-impact exercise equipment: An exercise bike, rower or elliptical trainer is ideal. While this type of equipment might not be in your budget at first, it will offer welcomed variety if you stick to your apartment exercise regimen over the long run -- and it won't disturb your downstairs neighbors.
Promoted By Zergnet