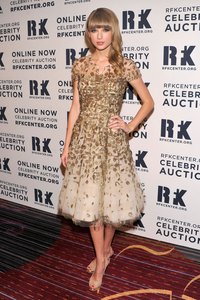 If you love shoes-- and who doesn't?-- a cream colored dress can be your fashionable best friend. A summery eyelet minidress, a billowy boho cotton or a classic wool winter white can be a backdrop for your creativity as you accessorize. Take a tip from singer Taylor Swift, who one blogger says "loves a cream dress": Swift pairs them with everything, from matching sequins and satin to black tights and brogues. Just keep in mind the style, the season and your whims: There are many ways to go right with this look, and few to go wrong.
Begin with basic black. If your cream dress is lightweight and summery, strappy sandals or peep-toe patent wedges will work. If it's winter and you want to wear your cream lace dress, anyway-- as Swift did to mixed reviews-- black tights and boots or lace-ups are a seasonally appropriate, if edgier, look. For structured, wool winter whites, a sleek black ankle boot will weather the storms. Also check out Bouchra Jarrar's spring 2013 runway look, pairing a sleek cream dress with tall black Louboutin ankle straps: an instant classic.

Allow your dress to take the spotlight. Neutral or nude color heels will show off your legs, making them look long and lean, and they'll also draw the attention to your dress. Camel-color sandals or cork wedges will complete a nostalgic, vintage or boho look.

Kick up your heels and have some fun with brights. Every season has its "it" color, from coral or tangerine to teal or emerald. These new hues often sparkle at their most spectacular in sky-high heels. So if you couldn't resist those ruby slippers, sapphire stilettos or purple pumps, let your shoes take center-stage while your cream dress quietly fades into the background.

Do some footwork and find a perfect match. It sounds counterintuitive, but cream shoes with a cream dress can be the hardest to pull off. If you're a perfectionist, though, you'll enjoy the quest. Celebrities who love the look probably have people to help: Kate Middleton, for example, is often seen in matchy classic combos. First lady Michelle Obama matched her shoes to her 2013 cream Easter outfit, a reprise of a Prabal Gurung dress she first wore in 2010. For a special occasion dress, you can always dye the shoes to get the hue just right.