The diet and fitness industry is focused almost exclusively on weight loss. But being as thin as possible isn't what you should aim for. Just as being overweight is unhealthy, so is being underweight. If your body mass index is below 18.5, pack on the pounds that you need to bring yourself into the healthy range.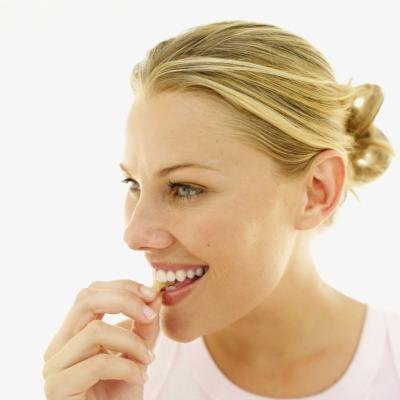 (Stockbyte/Stockbyte/Getty Images)
Step 1
Increase your calorie intake. This is the most important step for weight gain. If you don't increase your calories you will not increase your weight. The McKinley Health Center recommends adding 500 to 1,000 calories to your daily intake. This will amount to an increase of approximately 1 to 2 pounds per week, so you'll need to be patient if you're looking for large gains.
Step 2
Eat five to six smaller meals per day as recommended by the Mayo Clinic, instead of the standard three. You may feel full quickly if you're not used to eating a lot, so breaking your meals up can allow you to consume more.
Step 3
Choose foods that are both nutrient- and calorie-dense. Heavy breads, bananas, potatoes, cheese and nuts are all examples of foods with plenty of calories and nutrients.
Step 4
Drink milk, juice and smoothies instead of diet sodas, coffee and other drinks with few calories or nutrients. To bump the calories up even more you can add a meal-replacement powder or powdered skim milk to your drinks.
Promoted By Zergnet