There are two primary groups of muscles that control the movements of your ankles: the plantarflexors and dorsiflexors. The plantarflexors, such as the gastrocnemius and soleus, allow you to extend your ankles. On the other hand, the dorsiflexors, such as the tibialis anterior and extensor digitorum longus, allow for ankle flexion. You can work all of these muscle groups, and thus work your ankles, by doing calf raise and reverse calf raise exercises. Strengthening these muscles can help you improve in sporting activities such as sprinting.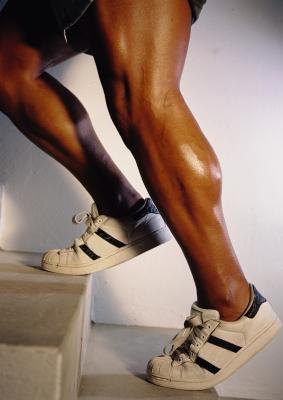 (Stockbyte/Stockbyte/Getty Images)
Things You'll Need
Pair of dumbbells

Flat weight bench
Step 1
Place an elevated platform about a foot in front of the flat weight bench.
Step 2
Grab a dumbbell in each hand using an overhand grip. Sit on the end of the flat weight bench.
Step 3
Put your toes over the edge of the platform with your knees bent. Keep your midfoot and heels off the platform. Put one end of each dumbbell over each knee to provide added resistance to the calf raise.
Step 4
Raise your heels as much as possible by plantarflexing your ankles. Maintain the contraction at the top of the movement for one to two seconds.
Step 5
Flex your ankles to lower your heels until you begin to feel your plantarflexor muscles being stretched. Don't lower them too far, to the point where you start to feel pain, as you can risk a tear in these muscles.
Step 1
Hold one dumbbell with both hands and sit near the end of the flat weight bench.
Step 2
Position the heels of each foot on the edge of the bench that you are sitting on and bend your knees a bit more than 90 degrees. Bending your knees is important so the gastrocnemius of your plantarflexors, which becomes shortened in this position, does not limit your range of motion during dorsiflexion.
Step 3
Keep your midfoot and toes off the bench and place the dumbbell between your feet. Squeeze your feet together to prevent the dumbbell from falling to the ground.
Step 4
Dorsiflex your ankles to raise your feet, and thus the dumbbell, as much as you can.
Step 5
Extend your ankles to lower your feet until you start to feel a slight stretch in your dorsiflexor muscles.
Promoted By Zergnet