Go to bed early, set your alarm and start your day off right with a new morning exercise routine. Physical activity is imperative to living a healthy lifestyle. Not only will exercise help you lose weight, but it also reduces your risk for chronic diseases. According to the American Council on Exercise, working out in the morning increases the likelihood that you will stick to the routine.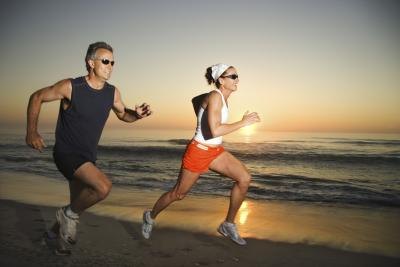 (Jupiterimages/Comstock/Getty Images)
Step 1
Recruit an exercise partner. A fitness partner will motivate you to stick with your fitness routine and hold you accountable. Working out with a buddy can also make exercising more fun.
Step 2
Design your fitness program. Find a cardio activity you enjoy, such as running, swimming, biking or a class at a gym. Perform cardio exercises five days per week for a minimum of 30 minutes. Adults also need two days of strength training, such as yoga or weightlifting. Taking a strength-training class helps ensure you are activating all of the major muscle groups and performing the exercises correctly.
Step 3
Schedule your morning workouts. Block out the chosen time on your calendar to encourage making your new exercise program a habit.
Step 4
Determine your target heart rate zone so you don't overdo it. Invest in a heart rate monitor or take your pulse regularly to stay within your target range. Start out slowly and build up to a more intense workout as your fitness improves.
Promoted By Zergnet