When you're ready to work on the infamous "problem area" around your middle, you won't find an exercise much more effective than the bicycle crunch. This basic abdominal exercise is among the most effective ab exercises out there for working the rectus abdominus and the obliques, according to a study by the American Council on Exercise. As with any exercise, using proper form is going to ensure you don't strain sensitive muscles, including the muscles of the neck. To do the exercise without straining your neck, try a variation of the exercise that involves using a flat bench.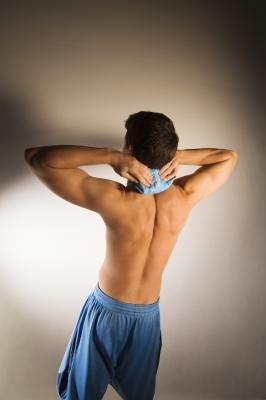 (Creatas Images/Creatas/Getty Images)
Step 1
Sit on the end of a flat weight bench, such as the bench used for the bench press exercise. Allow your feet to rest on the floor for now, and sit up straight by engaging the abdominals and taking any curve out of your spine.
Step 2
Grasp the side of the bench with each hand. Take notice of the neutral position of your neck. Maintain that neutral position as you lean backward, keeping your back flat and stopping when your back creates an approximately 45-degree angle with the bench behind you. As you lean back, your feet should lift off the floor and stick out from the bench horizontally.
Step 3
Raise one leg upward in a pedaling motion, as if you were on a bicycle. Slowly bring that knee to your chest. Focus on isolating your lower body, keeping your upper body stationary and not straining or craning your neck forward to meet your knees.
Step 4
Lower the first leg back to the starting position, while at the same time raising the opposite knee to your chest. As you move your knee upward, it's tempting to crane your neck. As you move it downward, it may be tempting to allow your neck to move backward. Prevent this movement by keeping a tight abdomen and avoiding curving your lower back. Whenever you think of it, check your neck to ensure it's still in a neutral position.
Promoted By Zergnet