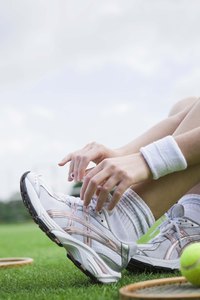 The skip-step lacing method -- also called gap lacing -- is effective at relieving foot pain with shoes and boots. This technique works well in avoiding placing stress on a sensitive part of the foot and can relieve downward lace pressure on arches. You can even skip the eyelets parallel to to your ankles on taller boots, increasing comfort. It's called skip-step because it skips one or more lacing crossovers, and is a simple way to add more flex to a shoe. The method is straightforward; with a little practice, you can re-lace your shoes for increased comfort quickly and easily.
Run the lace straight through the bottom pair of eyelets, with the lace on the inside. Tug on each end gently to even the lengths.
Criss-cross and thread the laces as you normally would, stopping just below the pair of eyelets you wish to skip.
Thread each lace straight up into the next set of eyelets, as opposed to crossing the laces over.
Resume lacing the shoes using the standard criss-cross method until you reach the top pair of eyelets or your desired stopping point.