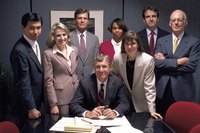 Becoming a nonprofit corporation and obtaining recognition as a 501(c)(6) tax-exempt entity by the Internal Revenue Service consists of two different procedures. After becoming incorporated at the state level, you'll make an application to the IRS, with both processes aided by instructions available at your secretary of state's and the IRS website.
Things You'll Need
Secretary of state documents
IRS documents
Articles of incorporation
Bylaws
Budgets
Federal employer identification number
Create a board of directors, which is required for becoming a nonprofit organization. You will need an attorney to represent you in your dealings with the IRS during your 501(c) application process; select one and meet with him to get his advice and counsel about your application process.
Find the website of your secretary of state and locate the corporations area if you will not use an attorney to apply for nonprofit recognition at the state level, or will begin the process yourself. Look for the instructions detailing how to incorporate as a nonprofit. Review the process with your associates and decide who will handle what parts of the process. This will most likely include forming a board of directors, which you must list, along with their titles and addresses, on your application. Write your articles of incorporation, which provides the state with information such as your purpose, director's names and addresses, mailing address and the agent who will represent you to the state. Have your attorney review your paperwork.
File your application and pay your registration fee, which you can often do online. Wait for your application to be approved. If necessary, answer any questions the state has and make any necessary amendments. Review your online listing at the secretary of state's website -- if your application is accepted -- to ensure all of your information is correct.
Apply for an employer identification number with the IRS after you receive your state recognition as a nonprofit, following the instructions at the IRS website. Begin the process of reviewing the IRS instructions for obtaining 501(c)(6) status by taking the step-by-step tutorial at the website. Download or write the instructions you'll need to follow and assign the different tasks to your board members.
Create organizational bylaws, which are detailed operating rules and procedures for operating a tax-exempt organization. You must submit bylaws for IRS designation as a tax-exempt organization. Contact your attorney for a bylaws sample you can use to write yours, or download some from a credible nonprofit website. Bylaws include rules for electing or appointing board members, the rights and limitations of members and board members, limits on the organization's activities and a dissolution clause.
Collect or create the documents required by the IRS, such as your projected budgets, bylaws, articles of incorporation, federal tax number and list of board of directors. Include IRS Form 2848, Power of Attorney and Declaration of Representative. Fill out and complete the application for recognition as a 501(c)(6) organization, known as Form 1024, Application for Recognition of Exemption Under Section 501(a) with guidance from your attorney. Sign all necessary documents and submit them with the appropriate fee. Wait to hear back from the IRS about questions they might have, or your approval.