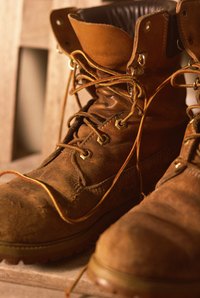 There's just something about a man in uniform so it's no surprise that army combat uniform-issued gear is often seen as street wear. Many folks who appreciate military style will never see a day of combat but that doesn't stop them from dressing the part. And this includes the footwear. Therefore, lacing those boots up in typical army-style is the coolest way to go. At first, this may seem like a difficult task but getting that ACU-look just takes a little practice. If you don't get it right the first time, don't worry, there won't be an inspection.
Things You'll Need
Begin lacing at the bottom of the tongue. Thread each end of the lace through the bottom set of eyelet, from the inside of the boot to the outside.
Pull each shoelace end straight out through the eyelets. Make sure you have even amounts of lace on each side.
Lace each end straight up the front and down through the next set of eyelets, pulling them through to the inside of the boot.
Cross the laces while they are still inside. Thread the ends through the next set of eyelets, weaving from the inside of the shoe back to the outside.
Repeat steps 3 and 4 until you have made it to the final eyelets at the top of the boot.
Repeat steps 1 through 5 with the second boot.