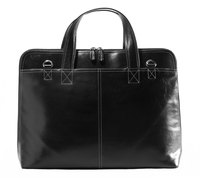 Black leather fades over time because the black color comes from dye. Just like fabric dye, leather dye has a limited lifespan. Leather clothing and even car seats that are exposed to direct sunlight fade to a dark gray, and may even become brittle from the heat and light. The solution is to dye the leather black again. The new dye will restore the leather to its original color. Some dyes even contain moisturizing ingredients that can soften leather that has become dry and brittle.
Things You'll Need
Apron
Rubber gloves
Newspaper
Deglazer
3 clean, soft cloths
Black leather dye
Put on an apron and long rubber gloves. Black leather dye stains your clothing permanently. The dye also stains skin and it may take days for it to wash off, even after scrubbing.
Lay newspaper on the work surface to protect the counter or floor from being stained with the dye.
Apply a commercial deglazer to the leather according to the instructions on the package. The deglazer strips the protective coating and allows the leather to absorb the new dye. Do not to get the deglazer on the lining of the item; the deglazer can damage delicate fabrics.
Apply the leather dye with a clean, soft cloth. Coat the leather item thoroughly but lightly, and pay special attention to edges and seams to make sure that the entire item it coated. Allow the leather to dry.
Check the color of the item and apply another coat of dye, if the leather is still not dark enough. Allow the second coat to dry.
Rub the leather with a clean soft cloth to remove the excess dye.