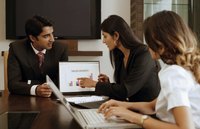 Charts are useful tools for measuring and analyzing data, whether it be from the financial markets, from population numbers or anything else. The advantage to a chart is that it allows you to express complex statistics in a highly readable and easy-to-understand way. The cost of this simplicity, however, is that the nuances behind the numbers are sometimes lost. Overcome this problem by making a chart that expresses the measurements of subcategories within the larger fields of measurement.
Make a pie chart that expresses subcategories. Draw a regular pie chart. From the ends of one of the categories on the chart, draw two lines moving away from the chart. Within those lines, draw another pie chart of subcategories. For example, if the main pie chart represents the population of continents in the world, draw two lines from the North America slice. Make a second pie chart that expresses the population distribution of Canada, the United States and Mexico.
Create a bar chart with subcategories. Break up the bar in a standard bar chart into differently colored bars, each representing an element of a subcategory. In the population example, place differently colored bars each representing the population of a country in North America on top of one another. The total multicolored bar will express the total population of North America.
Make a line chart to express growth over time with subcategories. Use dark colors to show the total of any given quantity as it changes over time. Beneath each dark line, use lighter colors to express subcategories. For example, if your line chart measures population growth by continent, use a dark color to show the population growth of North America. Below that line, use different colors to express the population growth of Canada, the United States and Mexico.