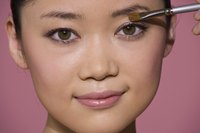 Eye shadow, if applied with skill, can help to accentuate your eyes by highlighting their best features and hiding the flaws. This eye makeup is also effective in masking imperfections such as droopy eyes that slant down at the outer corners. Use deft eye shadow application techniques to revive droopy eyes and make the outer contours extend outward instead of slanting down. Make use of eye shadow to camouflage droopy eyes and make them appear wider and brighter than they actually are.
Things You'll Need
Liquid foundation
Eye shadow brush or applicator
Eyebrow pencil
Translucent powder
Dot a little liquid foundation on the eyelids to create an even skin tone over which you will apply the eye shadow. Use the ball of your forefinger to gently massage the foundation across the eyelid. The foundation will also ensure that your eye shadow lasts all through the day.
Rub an eye shadow brush or applicator gently over a light-color eye shadow palette of your choice. Run the brush along the inner portion of your upper eyelid, right up to the center of the eyelid.
Apply a dark-color eye shadow on the brush. Ensure that the color contrasts well with the light-color eye shadow. Run the brush from the center of the eyelid to the outer corner of the eyelid. Extend the eye shadow upward in the shape of a wing, as you move the brush toward the end of the eyelid.
Apply a little silver highlighter eye shadow below the inner edge of your eyebrow. Brush the eyebrows upward with your fingers, and run an eyebrow pencil over them to further define their shape and make your eyes appear wider.
Seal the eye shadow in place by dusting a little translucent powder. This will prevent your eye makeup from forming creases or cracks. Repeat the process of applying the eye shadow on your other eye.