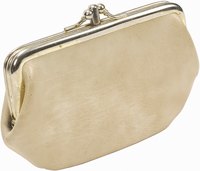 Clutch purses are convenient because of their size and light weight. They often come in many different stylish colors and fabrics, making them ideal to match with special outfits in a fashionable manner. As the name implies, these purses are typically "clutched" in the hand and come with very short handles meant to be held in the hand or draped over the wrists. Many women much prefer having purses with shoulder straps. You can adapt your clutch purse by adding shoulder straps, making your fashion accessory even more versatile.
Things You'll Need
Measuring tape
Scissors
Sewing machine
Needle
Thread
Buttons or ribbons (optional)
Interfacing (optional)
Find fabric that matches or complements the purse. Using a measuring tape, measure the distance from where you would like the clutch purse to hang, over your shoulder and back to the starting point. Add another inch to this length to allow room for attaching the straps to the purse. Cut the fabric to the length that you measured and 5 inches wide.
Fold the fabric in half and sew the length-wise edges together using a sewing machine. Turn the tube inside out so that the seam is on the inside. This creates a stronger strap and prevents the edges from fraying.
Find an appropriate spot to attach each end of the strap to the purse. Make sure the two spots are equidistant from each other and from the top of the purse. Sew each end of the strap to the purse. Cover the spot where the strap was attached with ribbons or decorative buttons if the stitches are visible.