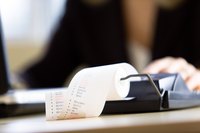 Repair shops, whether they're auto, mechanical or otherwise, typically have a large number of customers, so comprehensive accounting software helps to keep your orders organized so you get paid. When choosing the right bookkeeping software, talk to your shop accountant about the features he needs, then look for industry opinions to narrow your search. Don't leave something as important as bookkeeping software up to a blind choice.
Talk to your office manager or whoever is responsible for issuing work orders, tracking accounts payable and receivable and invoicing, if you don't have a dedicated accountant. He'll have definite ideas on what he needs from a bookkeeping software, and can give you a general idea on the needs of the company. For instance, a repair shop that sees 20 orders per day likely has different needs than one seeing only five orders per day.
Set your budget. Entirely custom software might help to streamline the shop's bookkeeping, but it might not be in the budget. Know what you're willing to spend and be realistic. As of the time of publication, accounting software for small businesses runs anywhere from $90 for a very basic version to around $2,000 for a professional version of software such as QuickBooks.
Look for software meant for your specific type of repair shop. For instance, if you own an auto repair shop, the right bookkeeping software will have some of the more common services and fees already listed to help save you time, and a small mechanical repair shop won't need the same software as a sewing machine repair shop.
Present the various programs to your accountant or office manager before you select which one you'd like to implement. She knows more about what she needs her software to do, so she might be able to rule out some of the options and narrow down your search to help you pick the right bookkeeping software for your shop.