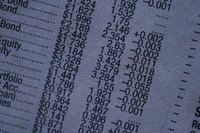 Costing reports are a vital way for companies to learn which parts of a business are the most profitable and which cost the most money. When created before the start of the project, costing reports provide a better estimation of how much a project will cost, allowing you to plan for profit margin. When costing reports are created after the project has been completed, you can gain better insight into the highest costs and the profit you can expect to make.
Start your costing report by gathering information about the project. If you are creating a costing report before the project commences, you will be using estimates rather than hard numbers. If you are creating the costing report after the project has been completed, gather the numbers from your team members so you have the most accurate hard costs to work with.
Tally up the number of hours planned or spent on the project, and qualify each worker's participation. For example, an architect and a general construction worker might spend the same number of hours on the job, but the architect will likely be paid a higher wage. List the number of people working on the job individually, including the hours each person worked and their cost per hour or over the course of the project.
Total up the receipts for materials and supplies for the project. It's a good idea to start labeling your expenses as items, rather than using general categories. Instead of writing "building supplies" on a check, be more specific and write "cement." This will give you more accurate numbers and a way to categorize complete information while calculating your overhead for a project.
Detail the amount of money billed to the customer. When creating a costing report, you are really completing a document that you can compare against the final invoice to better calculate your overall profit margin on a project. The amount of money billed to the customer should be prominently displayed on the report so you can easily see whether the project made an acceptable profit.
Create a cost-versus-revenue comparison. The difference between the cost and the revenue is the profit margin and ultimately how your company stays in business.