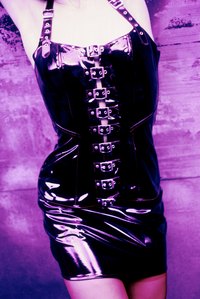 Incorporating two different fashion aesthetics--such as feminine and edgy--is a tricky task, but if you do it effectively, it allows you to create a personal style that's wholly your own. Many women want to develop a look that sets them apart stylishly. While there are a few obvious choices when you attempt to blend two styles that don't go together naturally, anything's possible as long as you make practical choices and blend subtly. When these combinations are successful, they set you apart from the masses and draw attention to your flair for fashion.
Mix and match feminine and edgy pieces to bring elements of both styles into your look. For example, wear a neon and black striped tee tucked into a full silk skirt. Find a common element, such as color, to unite the pieces so that their pairing doesn't look random. A neon and black short-sleeved top evokes punk rock legends while a knee-length black silk skirt is reminiscent of Audrey Hepburn. However, the black in both garments unites them to blend the styles.
Choose a garment that incorporate elements of each style. Shift dresses are ladylike, but a black, leather shift adds an edgy vibe to a ladylike design. A cropped leather jacket projects a rebellious image, but if the jacket is pastel it also has a feminine quality. A tailored, blush hued biker jacket looks appropriate with a floral skirt or dark, fitted jeans because it includes elements of each aesthetic.
Select pieces with an embellishment that brings the two styles together. For example, ballet flats are a decidedly feminine shoe, but fuchsia ballet flats with a row of studs around the toe incorporate the feminine quality of ballet shoes with the edgy quality of studded detailing.
Add an accessory to bring the disparate styles together. Wear a narrow, studded belt with a floral, full-skirted dress. Layer dark jeans and leather boots with a lace-trimmed T-shirt. You can wear an outfit that is exclusively feminine or edgy, then blend the looks by adding just one accessory that embodies the other aesthetic.
Style your hair and makeup in a way that blends the looks. For example, arrange your hair in large, soft curls for a decidedly feminine foundation. Pair it with dark, dramatic eyeliner as a nod to your edgy interests. Sleek hair with a severe part draws upon the strong, angular qualities of edgy styling, but sliding a tiny, floral barrette into your sleek tresses adds a touch of femininity to your overall look.