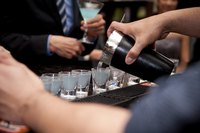 Working as a private bartender can be a fun and lively career that puts you in the company of social people at weddings, showers, holiday parties, corporate events, anniversaries and other private functions. But sometimes fun-loving people over-imbibe and, by a variety of wayward means, end up incurring bodily injury or property damage. Just as it would be foolish to drive a car without insurance, it would be equally foolish to launch a freelance bartending business without securing liquor liability insurance to protect you and your bartending business. After all, you are calling the shots in more ways than one.
Determine whether you can be covered under a wedding insurance policy, if you are working as bartender at a wedding. Such policies, which usually cover the cancellation of the event as well as damage that occurs if it does take place, are quite commonplace. You may automatically be covered under such a policy, or you may be given the option of taking out a rider.
Check with the venue that is sponsoring the event or is responsible for the property. In all likelihood, the venue already has a liability insurance policy in place. You may be able to "piggyback" on this policy and take out a rider, just as with a wedding insurance policy.
Call the insurance carrier who covers your home or car. If the carrier doesn't offer liquor liability insurance, ask for a referral to a company that does. This tack alone can save you untold hours of potential research.
Consult liquor establishments in your community and inquire where they have gotten liquor liability coverage. Your local chamber of commerce also may be able to point you in the right direction.
Research liquor insurance companies online for liquor liability insurance policies. Be sure to scrutinize the coverage details, such as assault and battery and lawsuit coverage and policy limits. Many companies cater to small-business owners.