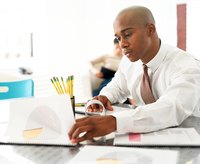 The implementation of a job analysis consists of evaluating a particular position and determining the major requirements that must be met for an individual to be successful in that position. Job analysis examines the position, not the individual who holds the position. Human resource departments and managers commonly conduct a job analysis prior to beginning the hiring process for a vacant position. This process helps hiring managers narrow the list of potential job applicants to only those who possess the necessary knowledge, skills, and abilities to succeed in the particular job.
Examine the requirements of the specific job. These include the duties that must be performed as well as the specific computers, software and other equipment the individual must use to complete day-to-day work activities. Job requirements should remain somewhat stable regardless of who holds the position.
Consider your organization's reporting structure and the placement of the specific job within that structure. Organizational structure defines who reports to whom as well as who is responsible for overseeing whom. It also articulates how information flows within the organization. The documentation of individual roles, as well as how each job relates to the next, is essential for ensuring all required duties are assigned to a particular role.
Identify what the employee must bring to the position. These are also sometimes referred to as Knowledge, Skills and Abilities, or KSAs. KDSs include a variety of elements, such as education, training and aptitude as well as the ability to function in the specific work environment and meet the physical requirements of the job. For some jobs, the employee may also be required to hold or obtain certain licenses or certifications. For example, a truck-driving job would require that the employee maintain a particular type of driver's license depending on the type of truck he is required to drive.
Determine the critical success factors against which the employee will be measured. According to the Mind Tools website, "Critical Success Factors (CSF) are the essential areas of activity that must be performed well if you are to achieve the mission, objectives or goals for your business or project." For example, if your company mission is to become the No. 1 seller of widgets in your geographic region, then the job analysis of a sales manager position might include identifying CSFs related to motivating sales employees to meet organizational goals.