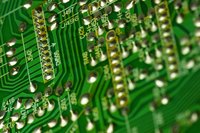 Silicone migration -- the movement of silicone in a component to another part of that component -- is a concern for makers of electronic equipment. Often, the problem is not the silicone itself, but rather contaminants that are found in the silicone. Those contaminants can cause failure in switches (including microswitches) and can create improper electrical connections in circuits. Modern silicone polymers have eliminated most of the contaminants that have caused these problems. Still, extreme heat can increase the viscosity of silicone polymers in electronic components and cause them to migrate into areas where they can impede performance.
Do not touch silicone while working or assembling a circuit board. The most common method of transfer is contact transfer, which occurs when someone touches wet silicone and then touches another surface. If you are working with silicone in a component, completely clean and dry your hands or change gloves before working with any other part of the same component.
Do not use any aerosol sprays that contain silicone while working with exposed circuitry. Silicone that is atomized can become airborne and collect on any surface that is near where the silicone spray was used.
Use controlled volatile (CV) silicone in components that can be affected by silicone migration. Dry silicone that is in a component can migrate under stress conditions, such as high heat. When it does, it becomes volatile and can condense on operational components. Dow Corning makes a line of CV silicone sprays, coatings, encapsulants and thermal conductives that prevent silicone from becoming volatile under normal operating conditions.
Use hairnets and protective clothing when you work with components that can be damaged by silicone migration. Many common household aerosol products -- such as deodorants and hair spray -- use silicone.