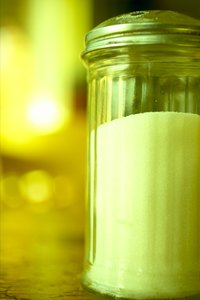 Potassium iodide is a compound formed by potassium and iodine. Iodine is added to salt in many countries to ensure people have enough iodine. It was first added to American table salt in 1924 for health reasons. Too little iodine can cause goiter, a swelling of the thyroid gland. However, with today's generation enjoying healthier diets, some have questioned whether we need iodine in salt. A quarter teaspoon of salt contains 67 micrograms of iodine, which is nearly half the daily recommended amount by the World Health Organization. If you want to remove the iodine from salt, either for health reasons or as a science experiment, it can be done by using alcohol to indicate the iodine levels.
Things You'll Need
20g table salt
2 small jars or test tubes
25ml ethanol
Coffee filter paper
5ml 3% hydrogen peroxide
2ml petroleum ether
Bowl
Oven gloves
Pour the salt and ethanol into one of the jars and close the lid. Shake the jar forcefully a few times and set aside. Shake again every two minutes for 10 minutes.
Heat the bowl in a microwave at medium strength for 50 seconds or until hot. Pour the salt solution through the filter paper into the heated bowl. Wait for the ethanol liquid to evaporate.
Add the 3 percent hydrogen peroxide into the bowl. Warm it slightly either on a stove or Bunsen burner until it is completely dissolved.
Place the solution into a new jar, and add the petroleum ether. Close the lid tightly and shake vigorously. The part that has turned pink indicates the presence of potassium iodine, and can now be removed from the salt.