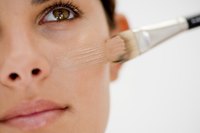 If you have skin problems, you aren't alone. Acne is an embarrassing yet common problem faced by many people. Instead of feeling embarrassed and depressed about your pimples, cover them up with makeup, and then forget about them. There are many different ways to disguise your pimples and acne scars so that no one even knows they're there. When your skin problems are all covered up, you can regain your self-esteem and get back to living your life with confidence.
Things You'll Need
Oil-free moisturizer
Concealer
Mineral-based foundation
Powder brush
Oil-free tinted foundation primer
Apply an oil-free moisturizer to your skin before you begin putting on makeup. Makeup will not stay on your face evenly if you apply it to dry skin.
Apply a layer of foundation primer to your face before you put any foundation on. Choose an oil-free tinted type that matches your skin tone. You can find this in any cosmetics store, next to the foundation. Primer will help to fill any pock marks left by acne scars, evening out your skin tone. It will also help your foundation stay on better.
Put a dab of concealer on each pimple that you are trying to cover. Only use a small amount, as putting too much on will look cakey.
Use a mineral based foundation. This comes in powdered form, making it easy to evenly distribute it across your face with a brush, instead of caking on liquid foundation. Mineral makeup is also good for your skin, as it won't clog your pores and lead to even more pimples.
Try airbrushed makeup as an alternative to mineral makeup. This type of foundation will be sprayed on your face by an expert in a way that will fill your pock marks and blend in with your natural skin tone. If applied properly, this can look so natural that people won't even know you're wearing makeup. This is good for men with acne scars who are trying to cover them up without anyone knowing that they are wearing makeup.