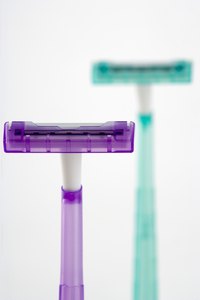 During summer bathing-suit season, many women opt to rid themselves of troublesome bikini-line hair. Unfortunately, if you go the shaving route in this area, you may wind up with a painful, itchy rash caused by ingrown hairs and friction. If you are plagued by bikini bumps, there are several important steps to take to soothe and heal your skin.
Things You'll Need
Hydrocortisone cream
Antibiotic ointment
Toner
Pain reliever
Moisturizing lotion
Clear deodorant
Rub an ice cube along the shaved area; this will reduce any pain you are feeling and reduce redness and inflammation.
Take a regular dose of a pain reliever like ibuprofen or acetaminophen to take the edge off the pain and help combat swelling.
Select a toner that contains either witch hazel or rosemary; you want something without alcohol. This toner will help with the healing process.
Apply a moisturizing lotion designed for use after shaving the bikini area. Keeping the area moisturized, but oil- and alcohol-free, is essential for clearing up a rash quickly. Using products with oils can cause a flareup of acne in this oh-so-delicate zone.
Go over the area with a clear deodorant; this can keep the area moisturized and free of pain.
Apply hydrocortisone or antibiotic ointment over the affected area at least once a day.