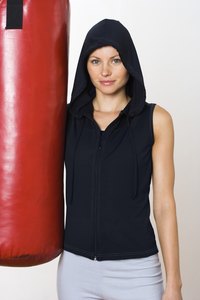 In just a few minutes you can revamp an old hoodie into a more sporty and casual garment. At the beach or jogging in the park, a sleeveless hoodie keeps you warm but not overheated. Hoodies are popular for their cozy warmth and for being easy to layer but can be stifling and impractical on a warm day. A sleeveless hoodie is a versatile garment you'll be glad to have at your disposal.
Turn the hoodie inside out, and lay it out flat on an uncluttered surface.
Locate the seam that connects the sleeve to the body of the hoodie. This is the seam that encircles the shoulder joint.
Snip a small incision with the tips of your scissors on the sleeve side of the seam. Cutting on this side of the seam prevents excessive fraying or rolling of fabric on the body of the hoodie.
Insert the lower blade of the scissors under the fabric of the sleeve just outside the seam, through the small incision. Cut around the length of the seam, taking care not to cut too close to the stitches of the seam.
Remove the opposite sleeve in the same way.
Turn the hoodie right side out, and carefully trim any loose threads or jagged bits of fabric.