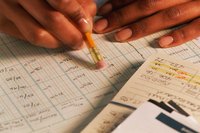 As the old adage says, creating a budget is easy--sticking to it is the hard part. Your best-designed budget has little to no effect without careful monitoring and willpower. Like most things, staying on top of your budget requires finding a method or system that works for you. There are many ways to make a budget tracking system fit your life and personality, but in all cases you'll need to record and stay aware of both your inflows and outflows.
Select a tool for tracking your expenditures that fits your needs and psychology. Some people do best with computerized spreadsheets or financial software. Others have an easier time remembering and making sense of information they write by hand. For them, a paper spreadsheet, accounting journal or even a simple, lined piece of paper is the best choice.
Enter your monthly budget into your spreadsheet or journal. Computer software programs will help you categorize and track expenses. However, if you use paper, organize your entries by category and leave room to enter actual expenses in a corresponding column. For example, if you budget $800 a month for entertainment expenses, you're unlikely to spend it all in one or two transactions. Leave at least 10 lines for recording the corresponding expenses.
Commit to a system for recording your expenses. Some people do it each time they spend money. Others sit down and record each day's expenses, while others do every other day or every week. The longer the gaps, the less accurate your monitoring system is at any given time. However, it's better to use longer intervals you can stick with than give up because a system is too demanding. A regular habit of recording daily or every other day will keep you on track without demanding too much of your time.
Save all receipts and transaction records from your purchases and payments. When you write checks, immediately enter them in your checkbook register. Don't let any transaction go unrecorded. If you spend money without getting a receipt, jot it down on a piece of paper or make a receipt of your own to keep with the others.
Record your spending at your chosen interval using the receipts and transaction records you have saved in addition to your checkbook entries.
Total each category after entering your expenses. These running tallies will show you how much you've spent compared to the amount you have budgeted. You can use the information to slow your spending and make smarter choices, or you might see that you're doing well and can relax, indulge or transfer some money to savings.