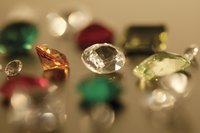 Vintage jewelry is a thing of beauty, and a thing of beauty is a joy forever. Antiquing or thrift store trips often result in rare additions to any vintage jewelry collection. Yet, regardless of bargain shopping or family heirloom status, sometimes the origin of a gemstone is called into question. Discern the difference between real and fake gemstones using these simple steps.
Things You'll Need
General Testing
Get educated on the differences between gemstones. Since each kind of stone is markedly different, so are the methods to discern authenticity. Read up on the characteristics of various stones and consult with a jeweler for stone-specific testing methods. However, for stones most commonly faked, such as diamonds, emeralds or rubies, it can be relatively easy to discern authenticity by using some general testing methods.
Check the gemstone's weight. In many instances, a genuine gemstone weighs more than an imposter. Use a jeweler's scale to determine the weight of each stone, if one is available. If not, you will need to visit a jeweler to make use of his scale.
Check stones for imperfections with a magnifying glass. Hold the stone up to the light with the magnifying glass. Normally genuine gemstones display minor imperfections and inconsistencies, whereas man-made imposters often look waxy or slick.
While fake emeralds and rubies will look like cut glass, minor imperfections observed in gemstones make them far more authentic. In the case of man-made diamonds, such as cubic zirconia, when observing these you will notice a small "CZ" carved into the stone.
Run your fingers over the surface of the stone. Real stones will not feel smooth to the touch. In fact, they should feel a little grainy or coarse. Fake stones, on the other hand will be virtually flawless to the touch.