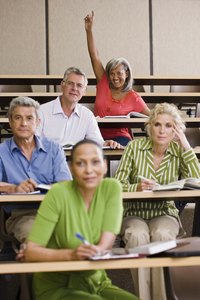 You shouldn't feel as though you missed the boat by entering the workforce after high school rather than going to college. Students of all ages go back to school to earn a degree later in life. Doing so can help you change careers or advance in your current career. Earning a degree can cost a lot of money, but there are many programs that are available to adults going back to school. Research all of your options to reduce your total costs.
Fill out the Free Application for Federal Student Aid. This form determines your eligibility to receive federal aid, such as a Pell grant or a Stafford loan. If you are over 24, you are automatically considered an independent adult and your parents' incomes do not count toward determining aid.
Talk to your employer about tuition reimbursement programs. FinAid reports that many large companies offer tuition assistance to employees. If the program that you're completing can help you in your career, you may qualify. Your human resources department will be able to tell you about any restrictions.
Ask the college financial aid office for a professional judgement review if you plan on quitting your job. The school and government base financial aid decisions on the previous year's income. If that will be changing significantly when you are in school, the school can review your application and increase the amount of aid you receive.
Seek out scholarship opportunities. Many scholarships are available to people of any age, but you may be able to find those that are specific to people going back to school. The website FastWeb is a great place to start.
Consider all of your loan options. The government's Stafford loan program offers all students low-rate loans that you can put off paying until after graduation. As an adult in 2011, you are eligible for $4,000 more than traditional-age students in your first two years, and $5,000 more in your last two years. Additionally, you may be able to qualify for other private loans to cover the costs. Compare interest rates for the best deals.