The tropical blend of balmy evening breezes and sunny days on sandy beaches boost the magical concoction that is a Hawaiian Christmas. The season is celebrated throughout Hawaii with Santa arriving on Hawaiian beaches in his canoe, parades, concerts and festivals. If you can't spend Christmas in Hawaii, bring an island-style Mele Kalikimaka to you with Hawaiian music, decorations and foods.
(pashapixel/iStock/Getty Images)
If you are in Hawaii during the Christmas season, you can easily find festivities that will touch you with the islands' Christmas magic. On the island of Oahu, Honolulu, the state capitol and Hawaii's most visited city, offers by far the most sights and activities, including its "Honolulu Lights," which runs from the first week in December through New Year's. The series of events begins with the lighting of the 50-foot Norfolk pine in front of city hall and includes an electrical light parade and trolley rides to see the city aglow, with its larger-than-life sculpture of the shaka-giving Santa and his missus in Hawaiian clothes at the city hall's fountain. On Oahu's neighbor islands, the events are fewer but no less Christmas-spirit invoking. For example, a highlight on Maui is Lahaina's Banyan Court tree-lighting ceremony, during which thousands of lights twinkle along branches that spread a city-block-wide and rise to 60 feet. As part of its Festival of Lights, the island of Kauai brightens spirits with its Lights on Rice parade, featuring 40 lighted entries and following a palm tree-lighting ceremony led by the Kauai Chorale and Santa.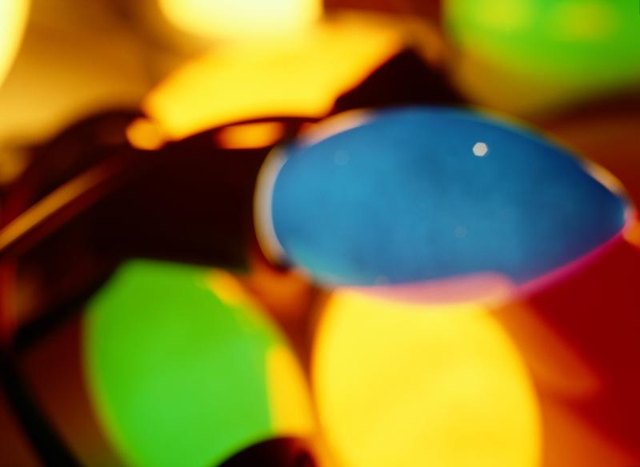 Ryan McVay/Photodisc/Getty Images
On the mainland, order decorations for your hale -- "house" in Hawaiian -- from online Hawaiian stores or make your own. You'll find plenty of miniature Santas in canoes pulled by dolphins or Kauai-style by roosters and pretty items such as angels with round, polished kukui nut faces and Hawaiian print dresses. Sand and Hawaiian figurines can be placed in clear ornaments. Coconut frond woven ornaments are fun for kids to make, while poinsettia lights add a tropical touch to a tree.
Ljupco/iStock/Getty Images
There's nothing like music to get people into the spirit of the season, and Hawaii has no shortage songs celebrating the season Hawaiian-style. Create a playlist with songs such as "Here Comes Santa in a Red Canoe," "12 Days of Christmas Hawaiian Style," and the classic "Mele Kalikimaka." You'll find recordings of the latter made by many Hawaiian artists as well as Jimmy Buffet and Bing Crosby. Traditional Christmas music sang by angelic Hawaiian voices such as the Kamehameha School Choir and artists like the Brothers Cazimero brings its own magic. Hula often accompanies the songs.
Purestock/Purestock/Getty Images
Many of the same foods are enjoyed in Hawaii at Christmas as on the mainland but with a twist. Sweet potatoes and yam dishes are made from scratch and often include pineapple and brown sugar. The rainbow of cultures in Hawaii shine in festive foods -- coconut pudding known as haupia, a traditional Hawaiian pudding, is layered in pies with pumpkin. Pineapple upside-down cake adds a festive touch of red with its cherries. Churches and community groups hold Christmas luau that feature a whole pig cooked in an imu, an underground oven, or for convenience, pork cooked with smoke flavoring in slow-cooker. Decorate cakes with icing or real Hawaiian flowers or use Hawaiian figurines to create Christmas scenes on cakes. Include tropical fruit on spears and drinks.
Merydolla/iStock/Getty Images
Promoted By Zergnet